About Us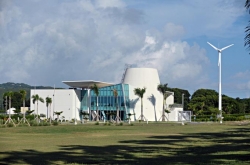 The University of the Virgin Islands Research and Technology Park (RTPark) is a rapidly growing economic development program specializing in technology and knowledge-based business attraction in the United States Virgin Islands (USVI). It is a partnership between the private sector, the government of the US Virgin Islands and the University of the Virgin Islands (UVI). Benefits include, but are not limited to:
Our Mission: to establish the USVI as the premier business destination of choice for firms in knowledge and technology-intensive sectors. The RTPark is proud to be an instrumental part of diversifying the regional economy and growing the tech ecosystem in an area advantageously located between the mainland US and Latin America.
History
The RTPark was established in 2002 and secured its first client in 2006. It was created through a vision of leaders at the University of the Virgin Islands (UVI), working closely with members of the legislature and the private sector. Their aim was to create a platform for diversifying the USVI economy and for stimulating growth and development of the islands. The RTPark program headquarters is located on the island of St Croix.
The program has enjoyed a period of rapid growth, almost doubling in size since 2015. In 2014 the number of clients was 27, accelerating to 52 at the end of January 2018. In September 2018, there are fifty-nine (59) active or in process clients in the program, with operations in all three islands.
Targeted Technology Sectors
The RTPark has instituted a targeted and highly intelligent business development program designed for future growth and dynamism. This effort has identified under-explored sectors in areas where needs are plentiful and potential for disruption is great. Promising target clusters include, but are not limited to: