Culture & History
Culture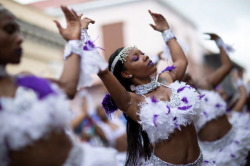 Alive with living history, magnificent landscapes and a culture that has survived hundreds of years, the US Virgin Islands are a rich tapestry of diverse culture, cuisine, architecture, customs and music.
Residents of the USVI enjoy a vibrant arts and entertainment scene, as well as a variety of deeply rooted cultural traditions and celebrations.
Carnival: There is no bigger party in the USVI than Carnival, and each island gets it's own week long celebration. St. Croix's Christmas Festival runs from Christmas through the first week of January ending with the adult parade on Three Kings Day. St. Thomas's carnival runs through the end of April and St. John the week surrounding the Fourth of July. Virgin Islanders often make trips to the other islands to keep their Carnival party going year round. Other local events that run through Carnival season are J'ouvert, a parade/party that starts around 4 AM and runs through the day, a food fair where local chefs can show off the best traditional cuisines and a competition to crown the King and Queen of the parade troupes.
AgriFest: Every year St. Croix hosts the AgriFest where farmers and visitors come from all over the Caribbean to showcase locally produced agricultural products, livestock, arts and crafts and native cuisine. Taking place over four days, festival goers can eat, drink and shop an amazing array of produce and goods that will leave no doubt that the Caribbean and the Virgin Island soils bear the sweetest fruits.
Music: Whether you're in a night club, dancing through the streets during Jump Up or at a barbecue in the back yard, the hard beats or melodic melodies of the Virgin Islands can always be heard. Soca, reggae, blues, salsa, reggae, calypso and steel pan are some of the common forms of music heard throughout the Caribbean, and no matter what it is, Virgin Islanders will be dancing!
Food and Drink: No Virgin Island event is complete without a feast of food and a plethora of drink. The Virgin Islands is known world-wide for its rum, and every island has its own variety. The best known would be Cruzan Rum, with the factory on St. Croix; make sure to book a tour when you visit. Seamoss is another popular drink made of seaweed that is boiled until it dissolves and then mixed with milk and spices. Other favorites include local fruit juices such as passionfruit, sorrel, soursop and peanut punch and of course bush tea is more prevalent than coffee on the islands.
Some popular dishes include Kallaloo, a soup made of leaves from a daheen plant mixed with okra, local herbs and often various meats or seafoods. Roti and pates are also a staple of the community, and each chef has their own spice mix, so you'll need to try a few to find your favorite. Stewed oxtail, saltfish, beef, goat and chicken are all popular as well. Side dishes include rice and peas, yams, fried plantains, dasheen, sweet potato, cassava, beans and lentils.
HISTORY
The islands were held by many European powers, including Spain, Great Britain, the Netherlands, France, and Denmark–Norway.

The USVI, like many other Caribbean islands acquired by European powers, were used to produce sugar and other tropical agricultural products and to further strategic interests such as shipping and the extension of naval forces.

The USVI became an unincorporated territory of the United States of America in 1917.

After the end of Prohibition in 1933, rum distilling became a growing source of manufacturing employment, and taxes on rum have been an important revenue source.
Education
The U.S. Virgin Islands has two school districts: the St. Croix District and the St. Thomas/St. John District. There are a wide range of educational options which include public, private and parochial institutions. Special education services are also available.
Public schools in the Territory are run by the Virgin Islands Department of Education and serve 13,805 students across 28 schools territory-wid —14 in the St. Croix District and 14 in the St. Thomas/St. John District.* Outside of the public-school system, parochial schools outnumber private schools in both districts.
See VI Moving Center's U.S. Virgin Islands' School/Education Information.
* Full list for the USVI "Public Schools Review"
ST. CROIX
In addition to a little over two dozen primary and secondary education institutions, St. Croix also has two higher education options which include the University of the Virgin Islands Albert A. Sheen Campus, and the St. Croix Educational Complex Vocational School. St. Croix also boasts two nationally recognized "Blue Ribbon" public elementary schools.
Full list of St. Croix District School and contact info
Full list for the St. Croix "Public Schools Review"
ST. THOMAS/ST. JOHN
The larger of the two school districts by student population, this district also hosts a campus of the University of the Virgin Islands on the island of St. Thomas. St. John, which only has three schools on-island, does not have a high school so it is customary that students travel to St. Thomas daily via ferry boat to complete their high school education.
Full list of St. Thomas Schools and contact info.
Full list of St. John Schools and contact info.
Full List for the St. Thomas/St. John "Public Schools Review" and contact info.
THE UNIVERSITY OF THE VIRGIN ISLANDS
UVI is an accredited 4-year public higher education institution which offers 47 associates, bachelors, masters and PhD degree programs to students in a wide range of disciplines. Students who graduate from a Virgin Islands public, private or parochial school qualify for comprehensive free tuition through the VI Higher Education Scholarship Program.
For information, visit the UVI website at: www.uvi.edu
Healthcare
Lifestyle & Recreation
Lifestyle
If you've heard the term 'Island Time', we can tell you it's a real thing. Life in the Virgin Islands is much slower paced than on the mainland, and visitors and new residents should be prepared for things to happen a slower pace than they may be used to.
The Virgin Islands use the US dollar as their currency, and due to the fact that most items are shipped in, you can expect things to be slightly higher priced than the mainland. Shopping at the local farmers markets or stopping to peruse a table on the side of the road with locally grown produce is a good way to save on food costs.
Most people have cars to get around the islands, but public transportation is available with taxi buses that can be hailed down on the road or picked up at designated spots.
Anyone considering a move to the Virgin Islands should read the Settler's Handbook, the tried and true guide to everything you could possibly need to know.
RECREATION
Recognized for its natural beauty and year-round pleasant climate, the U.S. Virgin Islands offers unmatched recreational opportunities including scenic hiking, boating, snorkeling, sailing, and fishing. The Territory is also home to first-rate golf courses, and some of the most popular carnivals in the world.
From the pebble-free sand and calm waters of Magens Bay Beach in St. Thomas, to the coral reefs and underwater snorkeling trails of Trunk Bay in St. John, beaches in the U.S. Virgin Islands have something to offer everyone.
The USVI Department of Tourism's website can provide you with enough things to do that you might wish you had eight days in a week.
Business Climate
The USVI is a Gateway to the US and Latin America. Positioned between the United States and Latin America, the US Virgin Islands is governed by US corporate, intellectual property, and investment laws.
The USVI serves as a fiber gateway to Europe, South America, and Asia thanks to its highspeed fiber optic infrastructure.
Fiber Optic Network – In the USVI you have the potential to be hooked into some of the fastest fiber connections in the world – world class broadband for voice and data up to 100Mbps with seamless connectivity for your business. The U.S. Virgin Islands is now home to one of fastest broadband connections in the Western Hemisphere, by connecting to the state-of-the-art infrastructure there is access to affordable, sophisticated and reliable high-speed fiber optic network internet connections. The USVI offers one router hop to the continental U.S. in a Tier One carrier facility with "meet me" points to any carriers within the contiguous States.