Published Thursday, April 27, 2023
For Immediate Release
For More Information, Contact:
Sydney Paul
sydney.paul@uvirtpark.net
Phone: 340-474-0922
RTPark Member Company M1 Enterprises USVI, LLC Announces Graduation of First Cohort of Professional Medical Billers
Trained workforce primed for well paid, in-demand careers; classes start monthly for nationally recognized certifications to support healthcare and technology services

St Croix, US Virgin Islands – April 25, 2023 – Saturday, April 15 marked the happy culmination of 110 days of intense, specialized but very supportive training: the first graduation of USVI company M1 Enterprises' remote workforce development program. These 16 newly certified professional medical billers are now fully ready to enter the healthcare and technology fields, which are growing exponentially and hiring rapidly for careers rich with potential. In fact, more than four employers are already awaiting graduates.
Experts trained in medical billing and coding greatly increase the rate of reimbursement by insurance companies to healthcare providers, thus improving the overall level of care possible. They have been taught the technology behind precisely submitting coded claims to eliminate time- and resource-consuming back and forth with government agencies and insurance companies.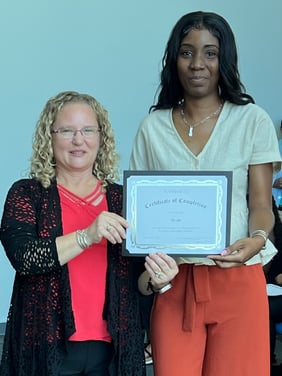 Graduate Ida Lee said that as the mother of three, remote work fits her lifestyle perfectly. "I was displaced after Hurricane Maria, and since I've been back home to the territory I've been interested in a career in something technical like medical billing, but I wasn't finding opportunities here. This is a really positive path for my life right now." She appreciated the flexibility of the training, that she could study on her phone wherever she was, and that there were many tools to help her learn.
UVI Research and Technology Park CEO Peter H. Chapman extended congratulations to the graduates who were able to complete their weekly courses in person using the organization headquarters and state-of-the-art conference space at the 64 West Center.
"As we continue to build a strong and innovative workforce in the Virgin Islands, it is essential that we invest in tech-based training programs like this one. The world is changing rapidly, and it is important that our workforce has the skills and flexibility to keep up. Programs like M1 help create a brighter future for our community and build a thriving, innovative economy," CEO Chapman said. "Congratulations once again to the graduates of the M1 Enterprises medical billing certification program. Your hard work and dedication have paid off, and we are proud to have played a role in your success."
In an illustrative example of increased cooperation and collaboration on economic development across the territory, all recruitment, training implementation and funding for this graduating cohort, as well as the one currently participating in training, was through the CDBG-DR Skills for Today Grant awarded to the VI Department of Labor (VIDOL). Skills for Today is an innovative workforce development program administered by VIDOL and designed to train 640 Virgin Islanders for employment in industries such as construction, hospitality, healthcare, information technology, marine services, and public service.
M1 Enterprises, an RTPark member company and veteran-owned small business, launched in the USVI on October 31, 2022 through the merger of two existing entities that brought more than 25 years of healthcare and training experience. Their mission is to train and deploy remote workforces in medical billing, coding and auditing, and revenue cycle services.
In the short time since their launch M1 has fielded 190 website applicants, channeled more than 60 applicants into its training process and celebrated 16 graduates. To remove barriers to entry, laptops are provided for trainees' use.
Says Doug Rideout, M1's CEO, "M1 is proud to contribute to the territory's economic growth while empowering its residents with new career potentials. This is a result of many people working together toward the M1 vision. We encourage anyone interested in a healthcare & technology related careers to contact M1."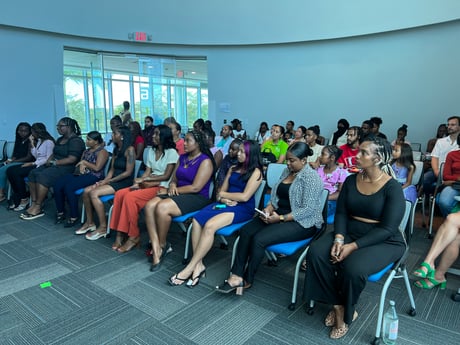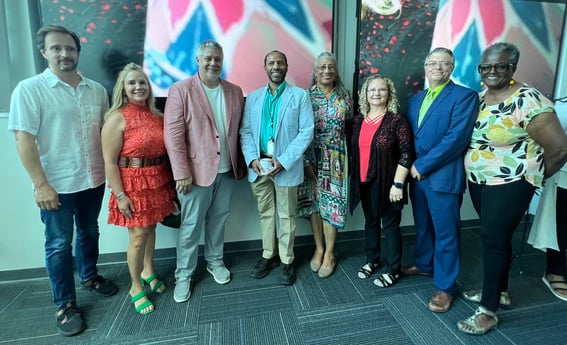 Contact:
M1 Enterprises USVI
Douglas Rideout
Doug@M1Enterprises.com
Phone: 479-754-1503
RTPark
Sydney Paul
sydney.paul@uvirtpark.net
Phone: 340-474-0922