Published Monday, May 16, 2022

UVI RTPark Celebrates 75th Client Activation Milestone and Major Summit
Speaker Announcement during International Economic Development Week
ST. CROIX - The UVI Research and Technology Park capped off this year's Economic Development Week on Friday, May 13th, with several large announcements that celebrate the growth of the RTPark and the territory's emerging tech hub.
During the week of May 9th, 2022, communities across North America celebrated and recognized the contributions made by professional economic developers to create more economically vibrant and livable communities. Created in 2016 by International Economic Development Council (IEDC), the largest international professional trade association for economic developers, Economic Development Week aims to increase awareness for local programs that create jobs, advance career development opportunities, and improve the quality of life in communities everywhere.
"Economic developers play essential roles in promoting the economic health and vitality of their communities — a fact that has only been proven further by the events of the past two years," says IEDC President & CEO Nathan Ohle. "The 2022 Economic Development Week will serve to recognize, honor and celebrate the ingenuity and leadership practitioners have shown in working to create a more equitable and prosperous future for everyone."
The RTPark, a 2020 recipient of IEDC's Economic Development Organization of the Year Award, has made great strides over the past year with the continued success of their tech business attraction efforts, in addition to embracing tangible alternatives for diversified growth in relatively uncharted sectors for the USVI.
Peter H. Chapman, Executive Director & CEO of the RTPark, emphasized how proactive engagement with catalytic economic opportunities has generated undeniable results for the RTPark and boosted their ability to attract large scale economic initiatives and projects to our shores.
"This year, we're proud to announce that the RTPark hit an amazing milestone of 75 companies operating in the territory last month. We've already surpassed that number and recently recorded our 78th company," Chapman said." "When you include the tech startup alumni of our Accelerate VI program, we're nearly at 100 tech companies operating and being nurtured in the USVI."
Chapman also highlighted that 48 of the 78 companies now affiliated with the RTPark were brought into the territory in just the last three and a half years—accounting for more companies during this period than were attracted by the RTPark during the first 16 years of the organization's existence.
Several new companies include:
Silver Line Films, LLC is a full-service film finance, production and distribution company that intends to increase awareness of varied filmmaking opportunities in the Virgin Islands to filmmakers around the world, build critical physical and economic infrastructure, develop programs that train and provide opportunities to retain skilled industry crew, and cultivate local talent to create homegrown, culturally relevant films to distribute to a global audience. The studio will serve to improve U.S. Virgin Islands' current production capabilities and attract more film and revenue to the territory. Silver Line will strive to be number one by offering state of the art equipment and facilities encompassed in an environmentally, and financially sustainable envelope.
NTest, LLC develops FiberWatch™, software that uses optical time-domain reflectometer (OTDR) technology to send light pulses down fiber cables in order to geographically pinpoint anomalies (such as breaks or bends) within a network. This not only allows network managers to immediately send a dispatch to fix fiber cuts, but it also gives users a current snapshot of their network's health enabling them to take preventative measures.
FiberWatch™ is designed to monitor optical networks to identify and prevent problems. In the event of fiber degradation or a fiber cut, FiberWatch™ will determine the probable cause, the exact location, and generate an alarm that can automatically dispatch repair personnel and provides a full trouble report.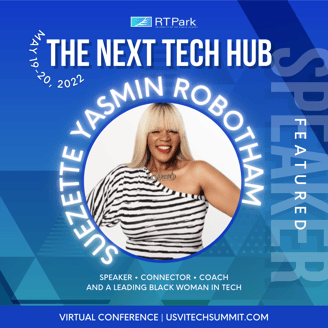 The RTPark also concluded Economic Development Week with the announcement of Suezette Yasmin Robotham as the second keynote speaker for their 2022 Business Attraction to be held this week from May 19th – 20th.

Robotham, who will be presenting on Friday, May 20th, is a speaker, connector, coach, DEI Practitioner and a leading black woman in tech. She has nearly 20 years of leadership experience with expertise in talent acquisition, diversity & inclusion initiatives, leadership development, strategic planning and relationship building across various industry sectors.
The RTPark looks forward to Robotham joining Tim Reid this week to amplify the voices of innovators who are using tech to create space for communities who reflect that of the Virgin Islands.
About The UVI RTPark
The RTPark is an innovative, internationally recognized, economic development organization designed to help diversify and expand the USVI economy through efforts to promote the attraction, retention and growth of technology, knowledge-based and sustainable agriculture firms within the Territory. Learn more at www.uvirtpark.net.
About the International Economic Development Council
The International Economic Development Council (IEDC) is a non-profit membership organization serving economic developers. With more than 4,300 members, IEDC is the largest organization of its kind. Economic developers promote economic well-being and quality of life for their communities, by creating, retaining and expanding jobs that facilitate growth, enhance wealth and provide a stable tax base. From public to private, rural to urban, and local to international, IEDC's members are engaged in the full range of economic development experience. Given the breadth of economic development work, our members are employed in a wide variety of settings including local, state, provincial and federal governments, public-private partnerships, chambers of commerce, universities and a variety of other institutions. IEDC's members create high-quality jobs, develop vibrant communities and improve the quality of life in their regions. www.iedcONLINE.org.