Published Wednesday, June 16, 2021
BETWEEN THE LAUNCH OF VISTA+ AND THE UPCOMING SHOWCASE FOR OUR ACCELERATE VI PRE-ACCELERATOR COHORT, WE ARE READY TO SHARE WHAT'S NEW!
SEE WHAT'S HAPPENING!
Meet the Inaugural Accelerate VI Pre-Accelerator Cohort as they demo the progress made and milestones reached over the past three months.
Join us for the Accelerate VI Pre-Accelerator Startup Showcase on June 21st! The showcase is an opportunity to meet the entrepreneurs behind cutting-edge technology solutions transforming the U.S. Virgin Islands and engage with them in a moderated Q&A session.
An initiative of RTPark, The Accelerate VI Pre-Accelerator program was created to be a mentorship-driven training ground for early-stage startup founders looking to build prototypes and prepare their business while reading themselves for a full-time accelerator. It, like its senior program, the Accelerate VI Accelerator, was designed to further the development and growth of early-stage technology ventures in the US Virgin Islands.
RSVP HERE
For more details, please email amanda.spann@uvirtpark.net.
---
---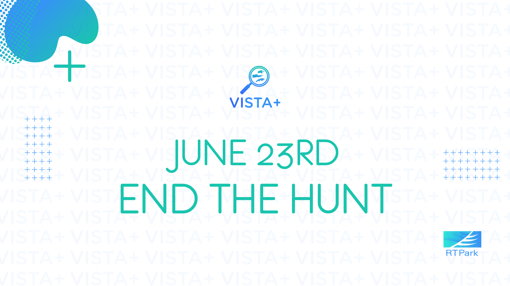 VISTA+ is the Virgin Islands' best access to STEM careers and talent...and it's almost here!
On June 23, 2021, VISTA+, a workforce development initiative of the UVI Research and Technology Park (RTPark), is launching a job search platform for Virgin Islands Assets and employers with a desire to help reverse "brain-drain" in the U.S. Virgin Islands and build a network for tech or STEM candidates seeking job vacancies in their industry.
FOR THE PEOPLE...
VISTA+ was made for you by people who understand the need to have access to the best career opportunities that drive you to remain a valued member of the USVI community. Browse our database for the most recent opportunities and connect with employers that are ready to hire the best!
FOR THE COMPANIES...
As a VISTA+ Employer Partner, your access to VI Assets is unmatched. Browse a database of talent and hire the best STEM and tech talent the USVI has to offer. Did we mention there are also incredible benefits to doing business in paradise?! See which amazing companies have already gotten behind us.
For more details or to register as an employer, please email vistaplus@uvirtpark.net.